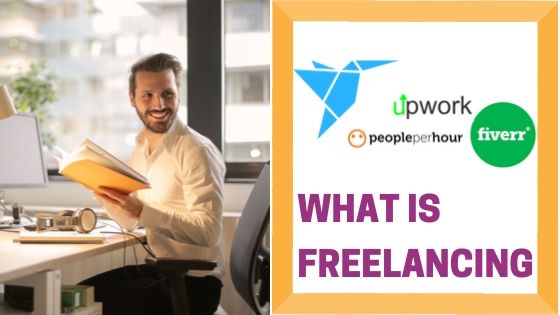 Freelancing is a term used for a person who gets paid in exchange for work. Unlike a person who gets paid in exchange for time. let's elaborate in detail " what is freelancing ? ". This term or word comes up in front of a person who is searching for genuine money making methods online. For sure Freelancing is one of the best and genuine ways for an income through an online platform. 
Suppose you own a store and you need a website for an online presence. In this case, you have 2 options.
Learn how to make a website.
Hire someone who can make a website.
If you hire someone only to make your website for a short time. That person will be called Freelancer. This same thing can be applied for any business or need. 
We all live in a digital era. Instead of Yellow pages, we are using google my business, Just dial or Sulekha (online business listing). Instead of buying products by visiting a physical store we are shopping online from E-commerce websites like Amazon and Flipkart. 
With time Freelancing also transformed into an online Opportunity for the people to make money online. Freelancers belong to the category of self-employed people. Today there are Freelancing sites like freelancer.com, 
Upwork.com, PeoplePerhour.com, Fiverr.com, Contentmart.com and many more like this. In which you can register your skill, approach to the clients worldwide in exchange for your services.
Advantages of Freelancing
Freelancing is popular among housewives who want to work or sharpen their skills and also want to make some money. But they can't go far from home due to their responsibilities. Students who are still studying but want some work for their pocket money also Prefer freelancing. Aspiring entrepreneurs can also use these platforms for the services they want.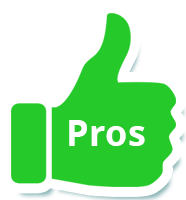 Unlike a regular 9 to 5 job person, freelancers can decide how much they should be paid for how much time. Freelancers can also control How much workload they should take. 
This means you can have perfect control and balance over your Life and Time. Which is a dream for billion of employees all over the world?
Note- It doesn't mean that Job is bad career option. It all depends on your choice and in which you are comfortable in.
How great it can be if you can work from wherever you want. You can enjoy a cup of coffee with beautiful scenery in front of you at a balcony restaurant in a hill station. 
You are working for your client that is somewhere else in the world but still, you are connected, working and earning of course. All you have to do is turn on your laptop and start working. You can do this from wherever you want.
In this way of working you have control over your choice of work. You can choose which work you want to do. Which work You like to do and for how much time. Usually in most cases after some time we face two types of things. 
We develop a great interest in that skill
We started getting bored with the same old stuff or skill.
If you are facing the second number situation. Then It's time for a career change. You can start work to enhance or test your other skills too. Plus there are thousands of other categories on which you can start working.
Disadvantages of Freelancing
Every coin has a flip side. It means With Great Advantages there are also some Disadvantages that some people will won't like. As a freelancer, You are a business owner. It means you will also have to do things that a businessman has. Which includes the responsibilities mentioned below: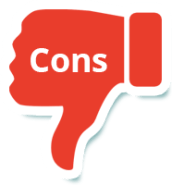 You need to handle and manage your taxes, Invoices, payment records. You also have to purchase some software which you will need to fulfill your work for your clients or customers. 
This can be a headache for some people. You can also hire a CA (Charted Accounted ) to get rid of these things.
This is very true that People in freelancing earn hell a lot of money. But this income is not stable at all. Your income will vary and pretty much depending on how much you are working.
For example: Suppose You are freelancing in marriage photography But Marriages Occurs in the months of Winters majority of times. This means You will have a lot of work these days but in another month. You will end up having almost no work at all.
Hope this example defines everything. This could be a problem for those who had to pay monthly bills for which they need to have an at least amount for their survival. If not Then You should go for it.
Freelancing is a better option for those who don't want a boss ordering him or her. It is a better option for those who can't leave their city or house for a career and for those who constantly do that. 
But most importantly Online freelancing gave a massive opportunity and freedom people to do work from wherever they want. 
No matter He/She is a student who wants some extra pocket money or a Housewife Who can't leave her home. I suggest everyone at least try Freelancing at once in a life.
Note:- Freelancing is not like you register on a platform and instantly you started getting clients. On these platforms, there are real humans who want their work. You will face rejection much time. You will listen to the word "NO!" many times. No means the "Next opportunity". There will be no one to keep an eye on you while working. You need to be responsible for whatever happened. You have to be disciplined for this. Your Persistence will play a major role in your success especially when you just started as a freelancer. Resilence will be needed because you can't just sit when you face a failure. You have to be good at communication and convincing skills. If you are not a good communicator you will become this with experience.
That's all But if you Want to know really about it You can Book a Free Workshop Where we Discuss and try to solve all your questions about a bright career especially in an online career.